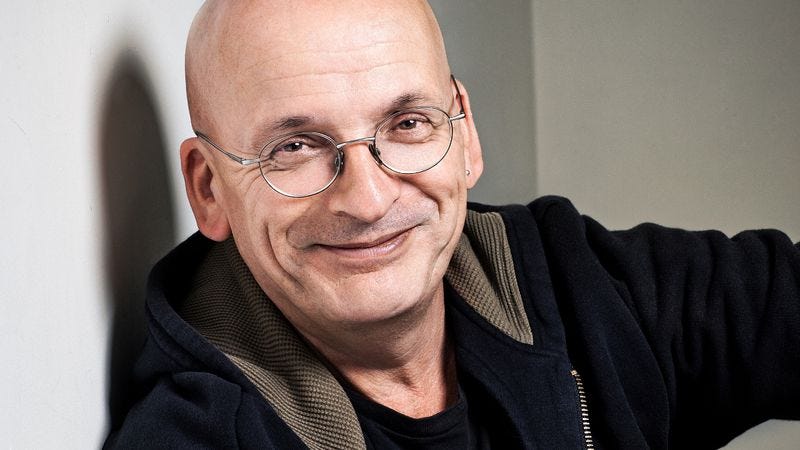 Since his first novel, 1987's The Commitments, Roddy Doyle has explored the psyche of Ireland's urban middle class. Using blunt language and pages of dialogue, he's managed to create characters that feel deeply authentic, even when they're up to their ears in wacky antics. In The Barrytown Trilogy (The Commitments, The Snapper, and The Van), Doyle detailed the trials and tribulations of the Rabbitte family as its members formed soul bands, started businesses, or dealt with unexpected pregnancies. It's now been more than 25 years since Jimmy Rabbitte Jr. became manager of The Commitments, and Doyle returns to the Rabbitte family with The Guts.
After an intestinal cancer diagnosis, Jimmy finds himself in an end-of-life crisis, attempting to navigate his role as a family man as he stares down his own mortality. While dealing with surgery and a bout of chemotherapy, Jimmy learns the music label he founded is losing business, and he plans a farcical scheme to get it back into the black. Revisiting the Rabbitte family homestead—as well as checking up on some of The Commitments—The Guts expands on Doyle's earlier work without tumbling too far into nostalgia.
Part of The Guts' success at remaining relevant is its shift in focus. Jimmy is still the wheeler-dealer he was in The Barrytown Trilogy, but he's also a loving father and husband (even if he slips up a bit in both categories). Though he's proud of his past, Jimmy doesn't live in it, and Doyle makes sure to skewer Jimmy's most nostalgic moments. If The Commitments was about young people trying to find new meaning by repurposing the past, The Guts is about how older people find meaning in the lives they've created. Luckily, Doyle doesn't underscore this point, and his hilarious use of curse words and jokes ensures the proceedings are never saccharine.
The result of Jimmy's battle with cancer isn't really in doubt, but the pathos of survival is enough to pack a punch, and running alongside the gloom and death is a healthy sense of fun. Like its main character, The Guts is well aware that life can be a party. The final scene, a sprawling, multi-day excursion through the Electric Picnic, is a perfect Doyle set piece, both hilarious and poignant. Attending the concert with an ad-hoc group of cancer survivors, Jimmy remembers why he got involved with music in the first place, and sees how he's managed to pass that passion on to his children.
Doyle long ago cemented himself in the canon of Irish fiction, and bolstered his reputation with a Man Booker prize in 1993, but he clearly has no interest in resting on his laurels. The Guts finds him and his characters a little ways farther down the road, dealing with new problems, but still deserving attention and praise.