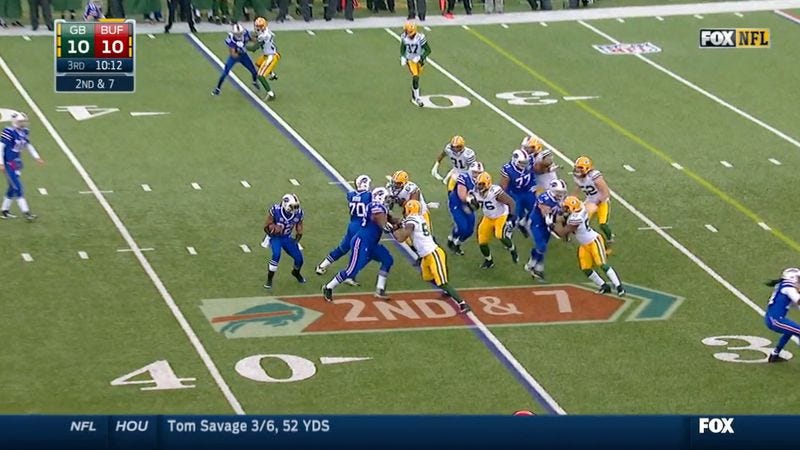 Block & Tackle is John Teti's column about pro football.
I hate to superimpose, but…
"Second down and 7 here for the Bills," Fox announcer Justin Kutcher said before a routine play in Sunday's Packers-Bills game. A graphic in the upper-left corner of the screen confirmed that it was second down, and the Bills had 7 yards to gain. A thick arrow superimposed on the field read "2ND & 7," so viewers would know that the Buffalo Bills needed to advance the ball 7 yards and, furthermore, that the current play was second down.
In the space of five seconds, viewers got the same simple piece of information three different ways. The networks lard up their broadcasts with this sort of redundancy every week. Fox isn't unusual. Its visual style is largely in line with its competitors, even if I maintain some specific quibbles about Fox's execution. Gratuitous repetition is the norm because broadcasters aim to serve a wide range of viewers. The down-and-distance display in the corner of the screen is designed for people watching on big screens at home, for example, while the larger one on the field is for fans who are squinting at the action from the corner of a crowded sports bar. TV producers quite reasonably want to inform and engage both of these audiences.
Each element of a network's graphics has its constituency. Fantasy football players like the incessant updates of player stats that slide across the top of the screen after big plays. Gamblers and out-of-town fans appreciate the ticker of scores around the league on the bottom. The trouble is that as the networks strive to accommodate these various cohorts, the portion of the screen dedicated to an unfiltered view of the action grows smaller. That's why it's time to abandon the one-size-fits-all approach to NFL telecasts and let viewers tailor the visuals to their preferences.
When I click the "View" menu in my web browser, I get a list of options like "Show Bookmarks Bar," "Hide Status Bar," and so on. I want an NFL broadcast—or app, or whatever—that gives us options along those lines. "Hide Score Bug." "Show Line Of Scrimmage Indicator." "Hide Tony Siragusa."
If the technology for this doesn't exist yet, we're pretty close. NBC's Sports Live Extra app lets Sunday Night Football viewers switch camera angles at will while watching live game footage. Fantasy football players who subscribe to DirecTV's Sunday Ticket package can set up a "player tracker" that displays on-screen alerts whenever someone on your fantasy team makes a play—and that feature is eight years old.
It's not a trivial challenge, but I'd pay for a way to bend on-screen graphics to my whim. I'd start by turning everything off, at least to remember what that looks like. Given the ubiquity of pro football, it's strange how rarely we get a clean look at a live NFL play. High-def cameras have let us observe players more closely than ever on the sidelines, but the on-field action can feel distant, obscured by flashy badges and sliders. It would be nice to reconnect with the reality that football is a bunch of guys running around on a rectangle of grass.

All that said, I'm not anti-graphics. Yes, I'd like to get an unfettered view of the action on occasion, but most of the time, I want that bright yellow first-down marker, that score box, that ticker. I enjoy the sensation that I'm at the heart of a nerve center every Sunday. And that brings me to the flip side of my "make it optional" setup: It would let networks experiment more than ever with visual enhancements. You've seen those replays where a magic computer traces a player's path on the field. What if the computer did that live, drawing a faint trail for every player as a down unfolds? You would essentially see the play diagrammed as it's happening. The display would give you a more vivid sense of, say, where the offensive line broke down or how a receiver beat his coverage.
I would love to see this. Sometimes. Nobody would want my happy trails as a standard element of the NFL on TV, but as a layer you can toggle on and off, why not? That's the beauty of making graphics optional: You can then make them more spectacular. I believe that something like my system will come to pass within the next 10 years, because the networks are running out of ways to distinguish their look under the one-size-fits-all model. A customizable approach might stoke creativity, with designers vying to attract viewers with creative visualizations. And it could give the fans new ways to understand football's complexity. Or at least new ways to understand that it's second-and-7.
Seattle Seahawks vs. Arizona Cardinals — Sunday, 8:30 p.m., NBC
The Sunday Night Football matchup will determine the leader of the NFC West heading into the last week of the season. The Cardinals can clinch the division outright with a win. At quarterback, however, they will start depth chart bottom-dweller Ryan Lindley, a man who has never thrown a touchdown pass in the NFL but has found time to throw seven interceptions. He likes to quote scripture in his Twitter feed as a service to the small business owners among his fan base.
Both the Cardinals and Seahawks feature angry birds in their logos. But which Angry Birds are they?
The 2014 Cardinals are the red Angry Bird. They get results, but they're not especially flashy or exciting, so nobody gives them much thought. Red just is. The Cardinals just are.

The 2014 Seahawks are the boomerang Angry Bird. At first, it looked like they would be useless. Then they suddenly turned it around and wreaked havoc. Also, on days off, Seattle quarterback Russell Wilson drives out to the countryside and razes shabbily constructed pig habitats with his SUV. The parallels are eerie. The Block & Tackle "peck peck peck peck peck peck peck" prediction: Seattle 21, Arizona 13.

The comedy stylings of Dan Fouts are bleak as shit, man
Arm strength jokes: Fouts goes there.
Ask Mister Owl
Confronted by a mouthy Santana Moss, Jeff Triplette (rightmost man in stripes) forgets a time-tested rule of refereeing: The angrier you are, the harder it is to get that damn flag out of your pocket. How many licks does it take to get to the center of a penalty marker? One…ta-whoo…three!
Detroit Lions vs. Chicago Bears — Sunday, 1 p.m., Fox
The Cardinals' Ryan Lindley is not the only disaster from the past who's getting a start this weekend. Jimmy Clausen, who compiled a 1-9 record as a starter for Carolina in 2010, will take the place of starter Jay Cutler against the Lions. (Clausen is pictured above, and his shirt is PICTURED ABOVE.) The prevailing theory is that the Bears are done with Cutler and are benching him in preparation for a trade, which is probably the case, as his demotion makes little sense from a "winning football games" point of view. Despite Cutler's struggles, he's still a functional NFL quarterback, and Clausen is not. At least, he wasn't in Carolina. But Clausen argues that he will have better results this time because, as ESPN reports, he has gained valuable sitting experience:

"One of the big things is sitting and looking back on the sidelines the past few years in Carolina, just sitting and learning really did help," [Clausen] said. "I didn't have that in college. I didn't have that in high school. Just to sit back and take a step back and look at everything helped the game slow down a little bit for me, and [I] just learned how to play in the NFL because it's totally different from college."
It's possible that Clausen has managed to sit his way to success. Odds are that he will be dreadful, though. In fact, I'm counting on it. I'm usually inclined to root for the second-stringers, but this late in the season, when a team that has nothing to play for, my preferences change. I want to see a damn mess. Botched snaps, "empty hand" fumbles, "what the hell was he thinking?" interceptions—these staples of the football blooper canon become much more likely when the ball is in the hands of a proven bungle-meister like Clausen. If we had a Block & Tackle Comedy Value Fantasy League, Clausen would be must-start this week. Alas, we don't have a Block & Tackle Comedy Value Fantasy League, but maybe we should. The Block & Tackle "growl growl growl growl growl growl growl" prediction: Detroit 23, Chicago 9.
Tiny Commentator Hall Of Fame inductees: Tiny Terry Bradshaw, Tiny Howie Long, Tiny Michael Strahan, and Tiny Jimmy Johnson
As quarterback of the Tiny Pittsburgh Steelers, Tiny Terry Bradshaw won four championship rings. Each night he wears one to sleep, like a wrestling belt.

Tiny Howie Long is pretty sure that if he puffs his chest out and holds his arms just right, nobody will be able to tell he's tiny.
Tiny Michael Strahan wants to register his concern about the repetitive language in the halftime promo copy; he's just waiting for the right opportunity to come up.
Tiny Jimmy Johnson once saw a camel in real life.
This is what Michael Irvin thinks a baseball player looks like
Departamento de correções
Porque Bloco interno & equipamento correspondência foi erroneamente traduzido para o Português, as seguintes previsões foram mal impresso na coluna da última sexta-feira: Green Bay vs. Buffalo, Pittsburgh vs. Atlanta, New York Jatos vs Tennessee, e Nova Orleans vs. Chicago.
Three Santas at the Tennessee-Jacksonville game: a performance review
Great costume and strong beard, Santa #1, but kids typically prefer it when Santa doesn't look like he's gazing into a boundless void of sorrow. Mrs. Claus has the right idea.

That looks like more of a God beard than a Claus beard, Santa #2.
Too late, Santa #3. Christmas is ruined.
Quick-hit picks
Here are the rest of Block & Tackle's final score predictions for the Week 16 slate. All Block & Tackle predictions are guaranteed to be correct.
Tennessee Titans vs. Jacksonville Jaguars (last night, 8:25 p.m., NFL Network): Tennessee 51, Jacksonville 21. Hirsute Titans backup quarterback Charlie Whitehurst makes his triumphant return! Right?
Philadelphia Eagles vs. Washington (Saturday, 4:30 p.m., NFL Network): Philadelphia 28, Washington 10. Pro Bowl voting is now over, which means the wife of Washington punter Tress Way might finally let me take a crap in peace.
San Diego Chargers vs. San Francisco 49ers (Saturday, 8:25 p.m., CBS): San Francisco 20, San Diego 17. The San Francisco organization has been hampered by infighting between team executives, who believe that Jaehyo is the most talented member of the Korean boy group Block B, and head coach Jim Harbaugh, who says that obviously U-Kwon is the best.
New England Patriots vs. New York Jets (Sunday, 1 p.m., CBS): New England 35, New York 13.
Kansas City Chiefs vs. Pittsburgh Steelers (Sunday, 1 p.m., CBS): Pittsburgh 21, Kansas City 17. Pittsburgh head coach Mike Tomlin motivates his players by showing them that Cadillac commercial with Stephen Merchant, a tactic that reliably fills them with rage.
Cleveland Browns vs. Carolina Panthers (Sunday, 1 p.m., CBS): Carolina 9, Cleveland 0.
Baltimore Ravens vs. Houston Texans (Sunday, 1 p.m., CBS): Baltimore 14, Houston 13. Block & Tackle predictions for the Baltimore Ravens have required subsequent correction more than those for any other team in 2014.
Green Bay Packers vs. Tampa Bay Buccaneers (Sunbay, 1 p.m., Fox Bay): Green Bay 32 Bay, Tampa Bay 7 Bay.
Minnesota Vikings vs. Miami Dolphins (Sunday, 1 p.m., Fox): Miami 21, Minnesota 14.
Atlanta Falcons vs. New Orleans Saints (Sunday, 1 p.m., Fox): New Orleans 17, Atlanta 16. After every game, New Orleans head coach Sean Payton introduces himself to another member of the team. This week, it was Perry Warner or something; he can't remember.

New York Giants vs. St. Louis Rams (Sunday, 4:05 p.m., Fox): St. Louis 23, New York 13. Eli Manning knows that he's supposed to be sad about a lousy season, but he's just excited to play a game in the city where The John Larroquette Show was set.
Indianapolis Colts vs. Dallas Cowboys (Sunday, 4:25 p.m., CBS): Dallas 28, Indianapolis 24.
Buffalo Bills vs. Oakland Raiders (Sunday, 4:25 p.m., CBS): Buffalo 10, Oakland 7.
Denver Broncos vs. Cincinnati Bengals (Monday, 8:30 p.m., ESPN): Denver 27, Cincinnati 12. Since the beginning of the 2010 season, the Broncos are 4-2 against teams named after cats and 5-4 against teams named after birds. The rare two-animal threat.
B&T prediction record last week: 16-0
B&T prediction record for 2014 season: 224-0
Infuriating corrections made: 77
Block & Tackle Week 16 Picks: Pocket Edition