Podmass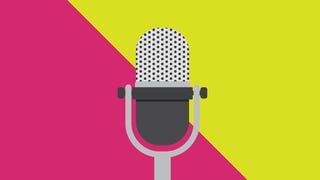 Podmass
In Podmass, The A.V. Club sifts through the ever-expanding world of podcasts and recommends the previous week's best episodes. Have your own favorite? Let us know in the comments or at podmass@avclub.com.
Hey, you like podcasts? Make sure you check out Reasonable Discussions, the A.V. Club podcast. Podmass comments can be directed to podmass@avclub.com.
To listen to these and other podcasts, visit Podcast Central, our podcast hub.
(Note: Due to an unforeseen writer absence, a couple of our regular podcasts aren't covered this week. Normal coverage will resume soon.)
QUOTES OF THE WEEK
"Are you half-Jewish, Tony?"
"No, but I had a relative who died at Auschwitz."
"Is that true?"
"Yeah, he fell off the guard tower." —Ben Schwartz and Tony Clifton, Comedy Bang! Bang!

"You laugh like the cartoon shoe being dipped." —Pete Holmes makes a Who Framed Roger Rabbit? reference to Jeff Garlin, Doug Loves Movies

"We should bring a half-homeless half-prostitute."
"How can someone be half-homeless?"
"They live under a doorway?" —Greg Behrendt and Dave Anthony discussing plans for a tour, Walking The Room

"I'm slowly adding layers to the cheeseburger of my success level." —Mark Duplass, WTF With Marc Maron

"He would rather have two Adam Sandlers in a film than an Adam Sandler and a Kevin James." — Graham Clark (on Dave Shumka), Stop Podcasting Yourself

"[Jeff] Garlin and [Pete] Holmes are about to have a conversation for the next 20 minutes about the last five minutes." —T.J. Miller, Doug Loves Movies
NEW (TO US)
FEaB
Whereas the titles of many podcasts are related to the content or premise of the shows, the title of the Nerdist/SModcast co-production FEaB is an acronym for Four Eyes And Beard, in reference to the glasses of co-host Matt Mira (best known from the Nerdist podcast) and the facial hair of co-host Scott Mosier (best known from SModcast and as Kevin Smith's producing partner). That Mira and Mosier chose such an inane title reflects the fact that FEaB really has no premise. That's not necessarily a bad thing; it just means the show will mostly appeal to those who are already fans of one or both of the hosts. They have pretty good chemistry, and their riffing—which composes most of the show, in addition to stories—is decent. A newer segment called FEaB Reads, in which they give book recommendations, is earnest but probably only interesting to listeners specifically looking for book recommendations. Compared to their more excitable and well-known co-hosts on Nerdist and SModcast, Mira and Mosier are much more laid-back, and the show overall has a notably relaxed tone.
At times this is true to the point of being a fault, such as in episode four, "Scott's Tired," in which Mosier literally almost falls asleep. His lack of energy is his signature, but in this case it puts him off his game comedically and thereby hampers the episode as a whole. However, he pulls his weight in this installment of a recurring segment in which they try to address questions raised in Chuck Klosterman's HYPERtheticals. Occasionally they stick too closely to answering the questions rather than letting the conversation digress into riffing, but it's mostly solid. Hopefully Mosier can get some sleep before the next episode. [CG]
---
OUTLIERS
Sport And The British
With the impending London Olympics, BBC Radio 4's serialized Sport And The British offers a perfect, timely opportunity to learn more about the rich history of "how sport has shaped the British and how Britain has shaped sport." The program, released in 30 15-minute installments earlier this year, is tightly produced and focuses mostly on the sociological, political, and cultural side of sports, and therefore hardly resembles a typical sports show. Host Clare Balding—with help from a long roster of sports-history scholars—presents fascinating stories of largely unheralded sports heroes and events from decades and centuries past, all with enough energy to give the show momentum and enough passion to keep listeners engaged. The topics of each episode vary (relatively) widely from week to week and are not chronologically linear, but the first episode is still the best place to start. After a brief recounting of the "The Rise of Olympism" thanks to Pierre de Coubertin, the episode dives into tales of bizarre occurrences and contentious relations between British and American athletes at the Olympic events in the early 20th century. It's totally riveting and will likely whet listeners' appetites for the upcoming summer games. [CG]
---
BEST
Comedy Bang! Bang! #164: Clifton Was Here: Tony Clifton, Ben Schwartz
Nearly three decades after the death of Andy Kaufman, his caustic lounge-singer alter ego not only lives on (via longtime friend and collaborator Bob Zmuda), but is also busier than ever, thanks to some regular shows in L.A. Kaufman is one of the patron saints of alt-comedy, and Clifton/Zmuda gives his acolytes access to the legend. Clifton's whole shtick is over-the-top offensiveness, so it's surprising to hear him reflective and downright restrained during episode 164. Of course, he still drops the n-word, offers to have one of his female companions blow Aukerman, and takes many swipes at Jews, but that's to be expected. This Clifton has a lot of raconteur Bob Zmuda in him, at least when faced with two comedy geeks like Aukerman and Parks And Recreation/House Of Lies star Ben Schwartz. His hacky/offensive jokes are fine, but his stories are pretty great. [KR]
The Dana Gould Hour #8: Summer Testacular!
The latest episode of The Dana Gould Hour takes its cues from guest and inveterate girlyman Joel Stein and his recent book, Man Made, about his experimental embrace of masculinity following the birth of his son. This leads Gould and his panel of erudite smartasses—including the ubiquitous Eddie Pepitone—to contemplate what it means to be a man and the myriad ways they just don't measure up. The resulting banter has the easygoing rhythms of casual conversation without the lulls, awkward silences, or failed jokes. Then Mr. Show's John Ennis drops by for a consistently hilarious recurring feature in which he and Gould comfortably inhabit the personae of working-class bruisers whose gruff exterior belies all manner of practical wisdom. A comic dissertation on the life of Lon Chaney Jr. that's edifying and entertaining in equal measure tops things off. [NR]
Doug Loves Movies: Jeff Garlin, T.J. Miller and Pete Holmes Guest
They said it couldn't happen—or maybe they just said it shouldn't happen: the loud, tangent-filled confluence of DLM's three most distractingly garrulous repeat guests, who are seemingly locked in competition for who can get Doug Benson's blood pressure the highest. Well, Pete Holmes and T.J. Miller are, anyway; Jeff Garlin seems genuinely confused and slightly miffed (though not at all stifled, of course) to be thrown in the middle of their riffing melee, and repeatedly answers Holmes and Miller's yes-ands with his own no-buts. The mismatched chemistry works, though, and when Garlin makes an early exit, another notorious DLM guest waits in the wings. This whirling dervish of an episode isn't for the faint of heart or those who like DLM for the games, which obviously fall by the wayside this week. Even those with a high tolerance for chaos might feel the need to pop an aspirin after listening, but it's worth it to experience one of the most memorable DLMs to date. [GK]
Hang Up And Listen: The Power And The Glory Of The Knuckleball Edition
Every baseball fan loves the knuckleball—for its mysterious breaks (and calamitous hiccups), for the Looney Tunes haplessness of opposing hitters, and for the stories of crafty veterans who have extended their careers by adopting this quirky pitch. Josh Levin, Stefan Fatsis, and guest panelist John Swansburg have a great time marveling over the strange case of New York Mets pitcher R.A. Dickey, a smart and media-friendly knuckleballer who has mostly stymied the league this season. While this episode is missing Mike Pesca and his delightful Pesca-isms, Swansburg proves a more than capable substitute, particularly during a Dream Team segment where he and the others muse about Scottie Pippen's approval of topless European beaches and the determination of everyone on the team to keep Isiah Thomas off of it. A third segment examines the legacy of Title IX, which has been a boon to women's sports, even if it hasn't entirely fulfilled its potential. [ST]

Judge John Hodgman: A Quashed Plot Never Spoils
Aaron Paul won an Emmy for his work on the third season of Breaking Bad. Have we ruined the show for you in some small way? That's the absurd position of Adam, who wants Judge Hodgman to censure his friend and roommate Andrew for revealing this information while he was just starting to catch up with the show. The knowledge that Aaron Paul—the second lead of the show!—survived through at least some of season three drained some of the suspense from Adam as Paul's character faced mortal peril. Hodgman's ruling isn't surprising—he's nothing if not a sensible man—but the episode raises some compelling questions about what constitutes a spoiler and what information might be considered fair or unfair to bring up in casual conversation. (Spoiler alert: A major development in the latter half of Games Of Thrones' first season is revealed, though Judge Hodgman will likely not hear the case against himself.) [ST]
The JV Club #16: Melanie Lynskey 
Janet Varney has been sitting on this interview with Heavenly Creatures star Melanie Lynskey for a year, and it's a mystery why she's waited so long to release one of the show's best segments. As an adolescent in New Plymouth, New Zealand, a provincial town where acting wasn't considered a legitimate profession, Lynskey was thrust into the spotlight at a young age when she was cast in Peter Jackson and Fran Walsh's film, and her experience is a fascinating look at balancing the pressures of an acting career with being an ordinary teenager—especially once she begins comparing herself to co-star Kate Winslet. Along the way, Varney confesses embarrassing tidbits about her own adolescence, like her crushes on A Clockwork Orange's Alex and Hannibal Lecter, and the rapport between the two women results in one of the podcast's most engaging hours. [OS]
The Mental Illness Happy Hour #66: Michaela Watkins
As comedian-actress Michaela Watkins anxiously explains, her life devoid of substance-abuse or any tangible tragedy may pale in comparison to the more harrowing tales on The Mental Illness Happy Hour. Instead, she offers another form of struggle perhaps more common, if not quite as exciting: something she calls "love addiction." Now happily engaged, Watkins details her path to understanding the full impact her parents' divorce had on her, specifically her tendency to wildly course-correct in relationships. While it's certainly a slow-burn, low-stakes sort of episode, Paul Gilmartin pulls increasingly relatable realizations out of Watkins, ending on a trite-but-true note of "You can't love another until you love yourself." [SM]
Mike And Tom Eat Snacks #62: American & Canadian Smarties
This week's MATES gets off to a rough start, with Michael Ian Black and Tom Cavanagh dragging out their inside jokes with some extended riffing that demands little attention. However, after a few minutes of stumbling, the duo locks in and the banter improves tremendously. The snack itself serves as a great launch pad—the Canadian Smartie being a color-coated chocolate more akin to an M&M than its chalky American counterpart—and once Black and Cavanagh hit their stride, they never let up, making the episode's second half a real winner. [DA]
[pagebreak]
My Brother, My Brother And Me #110: J.R. Junior Jr.
In the description of "J.R. Junior Jr.," Griffin McElroy notes that the heat in the studio this week displaced "logic and reason" and the brothers' "ability to keep it together," and he seems to be on to something, because it's a phenomenally silly episode. A question about kicking a nail-biting habit leads to a riff about having Bugles for bones, a significant amount of time is given over to discussing Wayne Knight, and the brothers spend several minutes trying to one-up each other with solutions for fixing a woman's tattoo. A segment centered on an intentionally nonsensical Yahoo! Answers thread is not nearly as fun as the typical, earnestly insane ones, and the silliness is broken up by some real advice about vacation planning, but there's a lot of great stuff before and after it. [CG]
Never Not Funny #1101: Zoology With Graham Elwood
Other than some short quips and a plug for the Los Angeles Podcast Festival, frequent guest and podcasting loudmouth Graham Elwood doesn't get much speaking room early on in the season 11 opener. Instead, he respectfully listens to one of the funniest (and lengthiest) stories Jimmy Pardo has ever told on Never Not Funny. Occupying much of the first half, Pardo's story details his recent gig as host of a charity benefit at the Los Angeles Zoo, in which an unplanned onstage attack/accident saved him from bombing in front a snooty crowd. Per usual, the latter half skims the surface with bits about Elwood's outdoor activities and (often literal) insider baseball, but Pardo, Matt Belknap, and the show's fifth most frequent guest have a chummy rapport that strengthens their discussion of hats—simply the many different types of hat—and their vision of a Broadway musical based on Wham! [SM]
Sklarbro Country #100: Puh-Pillow Pets: Fred Armisen, James Adomian
The 100th episode of Sklarbro Country is nearly twice as long as an average installment, but other than that, it's business as usual. The Sklars favor listeners with a "Sadvalanche" of rapid-fire quips about a pair of aging sexpots arrested for flashing their breasts at a golf course and welcome longtime friend Fred Armisen for a leisurely chat that peaks with Armisen's discussion of his pen pal and long-distance mentor, John Waters. Things wrap up with a podcast-closing call from James Adomian's perpetually conspiracy-minded, indignant Jesse Ventura. The brothers figured a typical episode of Sklarbro Country would be good enough for a landmark like 100, and they were right. [NR]
Sound Opinions #343: The Best Of 2012 So Far
As Jim DeRogatis mentions in the opening, his and Greg Kot's favorite episodes are the ones celebrating the year's best releases. At the halfway point of 2012, they present four each (a full top 10 is available on the website), with something expected (Alabama Shakes, Japandroids), something surprising (Kelly Hogan, The dB's, Killer Mike), and something out of left field (Dr. John). Speaking of left field, DeRo's Desert Island Jukebox choice isn't even in the ballpark: "Cry Of The Wild Goose" by cheeseball country crooner Frankie Laine (best known for the theme to Rawhide and Blazing Saddles). DeRo has a sweet personal connection to Laine's music, but the song will likely leave listeners scratching their heads. [KR]
Stuff You Should Know: Lying Liars: How Lying Works, Liar
Some say up to 25 percent of human interaction is lies, and Josh Clark and Chuck Bryant's completely affable take on the practice is definitely charming enough to last this jumbo-sized 50-minute episode. They start with the "big six" categories—"staying out of trouble lies," or "lies of cowardice"—that are so relatable, listeners might need to stop and reassess how many times they've lied just in the time it took to put on their headphones. Clark and Bryant stay on topic well, considering the subject seems ripe for tangents, and also offer tips on dealing with liars, a gentle balm for those who might feel paranoid after listening. [DT]
Walking The Room #109: Airing It Out And The Fingertip
Dave Anthony and Greg Behrendt have an ability to deftly wring a seemingly innocent topic for all its vulgar worth. In this week's standout segment, however, vulgarities are literally shoved in their face, and the two react with a surprisingly mature perspective. (Relatively.) Anthony's recent trip to Whole Foods starts with a tampon bombardment and ends at a hygienic hobo blockade, reminding Behrendt of an unfortunately intimate occasion at a car dealership. Both stories end on a slightly touching note, and the segment is slotted between a story of entertaining a bored family at a Scorpions show and a genuine thank-you to various websites for their weekly coverage, which gives a sort of cognitive dissonance to the whole thing. But fear not: There are plenty of offhand exchanges about rainbow-vaginas and gross misuse of sushi to offset the occasional threat of a warmed heart. [SM]
WTF With Marc Maron #290: Brian Regan
With the possible exception of Louis CK, no living comedian is referenced on comedy podcasts with more awe and reverence than Brian Regan. Unlike most of his peers, Regan doesn't do the podcast circuit, but he makes an exception for this WTF. Much of the podcast's appeal lies in the palpable joy Maron takes in talking to one of his favorite comedians; he's downright giddy at times, and Regan proves an engaging guest as he discusses his dark past as a prop comic, why Mormons love him, and not getting his own sitcom. [NR]
You Made It Weird #60: Chris Marrs
Pete Holmes' former marriage is one of the many topics that come up time and time again on You Made It Weird, but it's never really been delved into until this episode, featuring commercial actor, improviser, and friend of Holmes' ex-wife, Chris Marrs. Toward the end of the episode, Marrs presents his observations about the relationship and its dissolution, and pulls no punches when it comes to describing Holmes' potential shortcomings, which makes for rather fascinating listening. On top of that, there's quite a bit of insight about eating, trying to be healthy, and being gracious toward others no matter one's lot in life. The whole thing's peppered with constant riffing that hits a lot more than it misses, resulting in a very strong episode. [CG]
You Made It Weird #61: Gary Gulman
The latest You Made It Weird is even more of a love-fest than usual, as Holmes gushes effusively about guest Gary Gulman in a way that blurs the line between professional respect and stalkerish obsession. This episode functions as a nice companion to Marc Maron's recent talk with Brian Regan on WTF—they're both mutual-admiration-society conventions between a clean yet hilarious comedian and a clearly smitten host—but this is actually funnier and more compelling. By the end of the podcast, it's easy to see why Holmes holds his pal in such high regard. [NR]
---
REST
Monday Morning Podcast
Bill Burr's giddiness over being home alone means he has trouble focusing on most topics, and the ones he does dwell on are rather uninteresting. [CG]
The Moth: Anthony Swofford: The Actual Happy Ending
Jarhead author Anthony Swofford has a nice story about his father, but it proceeds as if on rails. Despite The Moth's "no notes" policy, Swofford closes his story as if reading from cue cards. [KR]
Nerdist #222: Mary Lynn Rajskub
Despite Mary Lynn Rajskub's best attempts to move the episode forward, Chris Hardwick keeps looping back when he asked her out, and what could have happened if they dated. [DA]
Nerdist #223: James Gunn
Actor, director, and writer James Gunn joins Nerdist for an episode that starts strong, but loses all of its momentum once it begins obsessing about assholes on Twitter. [DA]
RISK! #333: Indecent?
Though each story in this episode has its moments, skip ahead to the one by Dave Hill about life in New York and the risk of being urinated on. [MM]
Sklarbro Country: Sklarbro County 5
Taking a break from appearing in every comedy in theaters now and in the future, T.J. Miller guests for a spotty hour where some stories (e.g. a woman drunk-driving onto a golf course) yield more than others (e.g. a man arrested for "aggressive dancing" at a Gay Pride parade). [ST]
Stop Podcasting Yourself #223: Abby Shumka
Host Dave Shumka's wife contributes scattered conversational nuggets and behind-the-curtain insights, but this week's highlight is a listener's a capella rendition of the podcast's theme. [DXF]
Stuff You Missed In History Class: Deblina And Sarah's Renaissance Adventure
The opening introduction's jarring inclusion of a Renaissance Faire actor should hint at how compelling this episode gets. [DT]
Stuff You Missed In History Class: John James Audubon: American Woodsman Part 2
John Audubon's European success and art openings are interesting, but there's not much to discuss in a podcast format. [DT]
Stuff You Should Know: 10 Accidental Inventions: By The Numbers
The mini-topics will delight a short attention span, but the inventions aren't of particular note. [DT]
This American Life #467: Americans In China
This anthology of life as a foreigner in China is one of those TALs that'll have you thinking, "As a smart, worldly person, I should find this interesting" as you rewind to listen to the last five minutes you just tuned out. [CZ]
The Thrilling Adventure Hour #77: War Of Two Worlds, Part 5
It's a little maddening that the Thrilling Adventure Hour/Superego collaboration isn't the greatest thing in the world, but here it is, with an overloaded cast and some surprisingly clunky jokes. [KR]
The Todd Glass Show #51: Best Of Episode
This collection of previously aired clips is a great primer for an uninitiated listener, but well-worn territory for dedicated fans. [MS]
Uhh Yeah Dude #328
After a killer half-hour featuring a foundling raver and the continued tether-shaming of high-wire-walker Nik Wallenda (and his safety harness), Uhh Yeah Dude settles into a pleasant, if uneventful, second half. [CW]
Who Charted? #82: Missed Connections
The only memorable part of this episode occurs when guest T.J. Miller recounts the process of preparing for his Rock Of Ages scene with Tom Cruise. [MS]
WTF With Marc Maron #291: Mark Duplass 
Fans of Mark Duplass will enjoy this a good-natured conversation with the actor-director; others may find it pleasant yet not exactly riveting. [CZ]