Podmass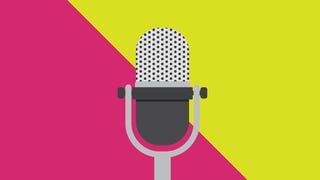 Podmass
In Podmass, The A.V. Club sifts through the ever-expanding world of podcasts and recommends the previous week's best episodes. Have your own favorite? Let us know in the comments or at podmass@avclub.com.
---
Anyone who assumes that "a podcast about dictionaries by people who write dictionaries" might have limited appeal hasn't heard lifelong lexicographer Kory Stamper rattle off the word "pneumonoultramicroscopicsilicovolcanoconiosis" with aplomb and glee. She and fellow dictionary editor Steve Kleinedler approach Fiat Lex like two veterans meeting up over drinks to vent about the most hectic parts of the job—or to gossip about all the best-kept secrets of their profession. Listeners don't have to be self-professed linguaphiles to pick up heaps of fascinating information about the world of words, some of which is useful (your teachers lied to you about the parts of speech!) and some that's just fun to keep in your back pocket (there's no sprinkler system at Merriam-Webster because water would ruin the centuries-old citation files!). In their fourth episode, Kory and Steve explore the stark difference between what normal English speakers consider "difficult words" versus what lexicographers would consider hardest to define. It's not just that small words like "the" and "take" can be deceptive, spiraling into endless sub-definitions; it's also about words like "god," and how defining can tap into deeply held beliefs and raw emotions. Which words are easiest? Ones like pneumonoultramicroscopicsilicovolcanoconiosis, of course. [Marnie Shure]
Note: Kory Stamper is a friend of The A.V. Club whose video series, Pop Lexicon, explores the origins of pop culture colloquialisms.
---
G/O Media may get a commission
From the creators of Brooklyn's THNK1994 Museum comes Good For Her!, a podcast in which hosts Matt Harkins and Viviana Rosales Olen and co-hosts Robert Balkovich and Chris Eifler look at hot topics and classic moments from the zeitgeist. The podcast is a great expansion upon the genuine love for all things pop culture that brought about THNK1994 in 2015 with the original goal of transforming a 25-foot apartment hallway into the Tonya Harding and Nancy Kerrigan 1994 Museum. Since then, THNK1994 has expanded and hopes to leave visitors with "a fresh look at a familiar subject," a goal that is also evident in Good For Her!, which offers hilarious, quick, and fun commentary on a range of subjects. Joining Harkins and Olen to dish this week is the latter's mother (and huge THNK1994 fan) Vivian Rose Rosales Olen. It's an endearing touch that elevates the podcast and acts as a primer for talking to parents about not only pop culture, but also the politics that surround it. [Becca James]
---
This super casual podcast is dedicated to analyzing each Disney animation release in chronological order, and has been on this mission for some time, as the feature discussed this week is buried in the back half of the studio's catalog. Treasure Planet was a box-office bomb upon its release in 2002, but the hosts nevertheless have mostly kind things to say about the steampunk-in-space adaptation of the classic Robert Louis Stevenson novel. The conversation comprises a straightforward retelling of the plot, with our expert Disney guides pointing out repetition or departures from the canon's standard format. Typical tropes included here are a dead parent, cute sidekick, villain death by dramatic fall, and big-name cast (including the voices of Joseph Gordon-Levitt, Martin Short, Emma Thompson, and David Hyde Pierce). Notable Disney aberrations include a strong but relaxed female action lead, a layered relationship between the main goodie and baddie, and a lack of songs—with plenty of airtime devoted to the ways one could turn this non-musical film into a Broadway sing-along, or even just score it with Goo Goo Dolls songs. Through it all, the specter of the more memorable Muppet Treasure Island looms large. [Zach Brooke]
---
Hosts Callie Goff and Kaitlin Mackenzie start off this week's episode of Scream Girls discussing the new trailer for the Suspiria remake. While their preferences vary from more contained threats to struggles for survival, their enthusiasm for horror movies is contagious. Whether delivering humorous takes on the tag lines for the Jurassic Park installments or appraisals of Laura Dern's role in the latest Star Wars film, the hosts have a wellspring of opinions on movies of all kinds, a range illustrated by this week's focus on the film adaptation of Stephen King's Pet Sematary. While Mackenzie has been a fan of King's work for a long time, she's never read or seen this classic. Some great context is provided for the uninitiated, such as director Mary Lambert's other work (including Lifetime movie My Stepson, My Lover) and King's drug use during shooting in the late '80s. While both Mackenzie and Goff are hyper-aware of the film's flaws, they're able to enjoy the experience of watching it all the same. Scream Girls is a great offering for horror enthusiasts who, like the hosts, have an unadulterated love for this medium. [Jose Nateras]
---
A BBC reporter walks the area around Kensington in London to document the way the super rich and the least fortunate members of society commingle. The space includes world-famous department store Harrods, which kicks off the tour, and concludes at Grenfell Tower, site of a deadly fire that killed 72 a year ago. In between are neighborhoods filled with people on public assistance as well as a few individuals living in $100 million homes. Despite their proximity, there is little mixing, and the city segment is defined by bubbles. One wealthy person talks about feeling more secure when associating with fellow rich people, because it's there their money matters least. A poorer Moroccan immigrant reveals she's not accepted by other Moroccan immigrants because she was born in a separate part of the country than they were, and a bar is featured that doesn't admit any customers but working-class cabbies. The most interesting character might be a realtor to the super rich, who grew up poor and now refuses to sell to anyone who treats servants like shit. The episode makes use of binaural recording technology to layer the neighborhood sounds and create a sort of 3D audio landscape. [Zach Brooke]
---
Rhea Butcher comes out swinging this week in Three Swings' second episode from a new home recording studio. Ready to talk about baseball, but also "things more important than baseball," Butcher's weekly podcast is hitting its stride, offering "radically sensible" discourse on history, culture, gender, race, and of course, America's pastime. This week, Butcher goes in on the MLB's approach to domestic violence, highlighting "the fallacy of 'redemption narratives' when it pertains to perpetrators of physical and sexual abuse" by touching on Roberto Osuna and Luke Heimlich. It's a heavy but necessary conversation that asks if it's worth it to allow someone to play baseball (Heimlich) who sexually molested his 6-year-old niece. Of course it isn't, though unfortunately some might require more explanation or defense of that position. Rounding out the episode is a more lighthearted opinion on a specific scene in A League Of Their Own that shows changing your mind is a strength, not a weakness. [Becca James]
---
Paul Scheer considers himself a lifelong movie buff, but a fascination with cinematic train wrecks (all featured on his series How Did This Get Made?) has ensured he's never seen many of the all-time greats, which leads listeners to his newest podcast, Unspooled. Teaming up with film critic Amy Nicholson, Scheer sets out to watch the AFI's top 100 movies of all time "to find out what makes classics like Citizen Kane and Taxi Driver so special." This episode "charts a course through 1997's epic tragedy Titanic" as Scheer and Nicholson take both a serious and silly look at the work, marveling at the film's structure and counting how many times Jack and Rose say each other's names. Joining the hosts is Danny Nucci (who plays Jack's friend Fabrizio) who shares stories from the set and looks back on what it was like to work with the "legendarily intense James Cameron." And fret not, the end goal for Scheer is still to "discover just how these films got made." [Becca James]