Each week, Big Issues focuses on newly released comic books of significance. This week, it's the broad spectrum of Image Comics hitting stands, solidifying the publisher's position as the industry leader for fresh, exciting creator-owned monthly comics. (Note: This review reveals major plot points.)
October marks the start of the fourth financial quarter, the time when comics publishers desperately try to make up for any of the year's losses with waves of high-profile new releases. In superhero comics, Q4 has become relaunch season, a trend kicked off by DC's New 52 in September of 2011, which rebooted every single comic in DC's lineup with a new #1 issue. Retailers have to place their orders months in advance, so orders for comics from Q4 would be placed before those New 52 #1s ever hit stands, and the buzz around a dramatic line-wide relaunch would theoretically make those numbers higher than they would be if many of those series debuted without the support of a line-wide reboot.
The reality of the situation was that 52 new titles was a lot for readers for take in at once and some books got trampled in the stampede, so when Marvel decided to launch its "Marvel Now" campaign, it staggered the release of the new first issues over the course of Q4 as well as the first two financial quarters of the next year. Marvel's summers are taken over by events and their tie-ins, but then the relaunch process starts again: "All-New Marvel Now" last year, "All-New, All-Different Marvel" this year, a name that is awfully ironic considering half of it is the same as last year. For the most part, Marvel's relaunches have fared much better than The New 52, featuring inspired creative teams working on characters they're passionate about, and the last three years of Marvel Comics have shown that there's still plenty of territory left to explore in this decades-old superhero universe.
G/O Media may get a commission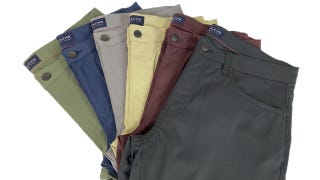 JACHS NY Fall Stretch Tech Pants
Marvel and DC may be competitors, but they're also each others' biggest imitators, and seeing Marvel's success with more diverse characters and art styles inspired DC to start making its own changes. The move of the DC Comics' office from New York City to Burbank at the start of this year provided an opportunity for DC to rebrand and relaunch a little earlier than usual, debuting 21 new titles in June as part of the DC You campaign. While sales haven't taken a very dramatic turn for better or worse, the quality of the comics is considerably higher, which is the first step in regaining the good will lost with readers after the New 52's mediocrity.
Before the New 52 and DC You, DC released events that replaced its publishing schedule with tie-in comics that featured various interpretations of DC heroes, and that's exactly what Marvel did this summer with its Secret Wars event. As has been the trend, Marvel took a similar idea and executed it with more style and imagination, making Secret Wars a rare crossover where the tie-ins have been just as good (and in many cases better) than the main event. God Emperor Doom's Battleworld feels like a genuinely new and different landscape for Marvel that takes advantage of the company's rich past to create a captivating new status quo, but it won't last. There are still three more issues of the oft-delayed Secret Wars, but this week's "All-New, All-Different Marvel" debuts reveal that the old Marvel universe is going to be back and it really hasn't changed much.
The prospect of the name "All-New, All-Different Marvel" suggests that the publisher will be bringing in unexpected talent for unconventional new titles, but the creator lineup for the relaunch is primarily made up of writers and artists with strong ties to the company, and many of the creative teams have already worked together on other books. This week's Invincible Iron Man #1 and Dr. Strange #1 both feature creators that already have an established working relationship from past collaborations, and Amazing Spider-Man #1 doesn't even bother changing the writer or the artist. The sampler one-shots Avengers #0 and All-New, All-Different Marvel Point One are filled with people who have already worked for Marvel, a loud statement to readers that the branding for this relaunch means nothing. Rather than doing something truly new or different, Marvel is shuffling around what it already has, and while there are some very promising debuts on the horizon, Marvel's big Q4 push is off to a lackluster start.

Marvel's relaunch is likely going to dominate sales, but when it comes to publishing monthly comics that try to do something new and different, Marvel doesn't even come close to what Image Comics accomplishes this week. No publisher does. Image's 15 new single-issue releases represent an extraordinary range of story genres and art styles, with a mix of high-profile creators and exciting emerging talent working on projects that they own and develop without editorial interference. Realizing the financial benefits of full ownership (especially in regards to media rights), the most popular names at Marvel and DC have gone to Image to work on their passion projects, and the massive success of books like Brian K. Vaughan and Fiona Staples' Saga, Jason Aaron and Jason Latour's Southern Bastards, and Matt Fraction and Chip Zdarsky's Sex Criminals has dramatically elevated Image's status in the comics industry (along with a little comic called The Walking Dead).
The past year of Image Comics went a bit too heavy on the sci-fi titles, and while many of those books are quite good, the genre variety of this week's releases shows a more expansive perspective for the publisher moving forward. Looking for a new ongoing series by industry superstars trying out a new collaboration? Check out Paper Girls #1 by writer Brian K. Vaughan and the art team of Cliff Chiang and Matthew Wilson, kicking off a Spielbergian story about newspaper delivery girls in the '80s encountering mysterious mutated humans holding an artifact from the future. (Vaughan and Chiang previously worked on a Swamp Thing short story 15 years ago, but that's the extent of their creative relationship.) Want something a little less commercial? Try Saints #1 by writer Sean Lewis and artist Benjamin Mackey, a book that combines death metal culture with Christian mythology and imagery for a very strange, very dark ensemble drama. Disappointed by the lack of female representation in Marvel's superhero debuts? Pick up Codename Baboushka: Conclave Of Death #1 by writer Antony Johnston and artist Shari Chankhamma, which features a female artist drawing an ass-kicking spy heroine who will appeal to fans of Marvel's Black Widow.
The last new #1 offered by Image this week is one that feels like a relic of the publisher's past. The original creation of a popular superhero artist, Shane Davis' Axcend is the kind of book that would have been right at home at Image in the '90s, featuring a sullen teenage outcast who tries out a new video game that turns him into an extreme digital hero. It's the kind of comic for readers who miss the hyperactive, over-the-top nature of classic Image superheroes, and as the publisher moves further and further from that former house style, it's nice to see it pay homage to its roots. (Readers with an aversion to '90s superheroes: stay far away from Axcend #1.) Image covers a broad swath of genre territory with its four debuts, but they're just the tip of the iceberg as nearly every major comics genre gets its due from one of the 11 continuing Image series hitting stands this week.
8house: Yorris will satisfy fantasy fans with its extensive world-building and richly designed artwork. Horror buffs can check out Nailbiter for a heavy dose of psychological terror. Plutona offers a novel take on a superhero narrative by following five kids who discover the body of a dead superheroine in the forest. Minimum Wage: So Many Bad Decisions tells a semi-autobiographical slice-of-life story by an alt-comics veteran. Copperhead, Starve, and We Stand On Guard are all sci-fi stories, but they have very different flavors: Copperhead is a Western with sci-fi trappings, Starve is a critique of contemporary pop culture set in the near future, and We Stand On Guard is a war story about the United States invading Canada in the early 22nd Century. Even when there's genre overlap, Image's books have distinct identities that prevent them from being too similar. Dark Corridor and Southern Bastards are crime comics, but the sleek urban aesthetic of the former is a dramatic contrast to the rural earthiness of the latter. They're both two of this week's most atmospheric comics, but the atmospheres they project are worlds apart.
Then there are comics like The Humans and The Surface that defy easy categorization. Set in the early '70s, The Humans could be considered a period drama about one man's acute PTSD after coming home from the Vietnam War, but that man is a humanoid primate and he's part of a biker gang of humanoid primates that delight in drugs, sex, and vehicular manslaughter. It's a brutal, haunting series that is also full of exhilarating action and dark humor, and that combination has made The Humans one of the year's best titles. The Surface #4 concludes the miniseries with a bold metafictional twist, largely abandoning its established sci-fi plot to explore the mind of writer Ales Kot in the midst of a major turning point in his career. It's a frank, fascinating comic about Kot evaluating his future after a rapid increase in profile, and while some readers may be disappointed by the plot's sharp left turn, the issue stands as an ambitious artistic statement.
That's a lot of different kinds of comics, and they have a very attractive price point. While Marvel's new #1 issues range from $4.99 to $5.99 to this week, Image's new #1s range from $2.99 to $3.99. The highest profile release, Paper Girls, is also the best value, giving readers a double-sized first issue for $2.99. Setting the price point for single issues is one of the benefits of working with Image, and releasing extra-sized debut issues at a low price is a great way to grab the attention of both retailers and readers.

There is one element of pricing that creators can't control, though, and that's the $9.99 price point for the first collected volume of a series. Some creators have taken issue with this practice, but like those extra-sized debuts, these low-priced introductory collections make it easier to lure in new readers. For those uninterested in monthly comics, there are three new first volume collections of major Image titles out this week: Bitch Planet by Kelly Sue DeConnick, Valentine De Landro, and Robert Wilson IV; Jupiter's Circle by Mark Millar, Wilfredo Torres, and Davide Gianfelice; and Injection by Warren Ellis and Declan Shalvey, who did phenomenal work reviving Marvel's Moon Knight last year.
Image is doing a lot right, but it isn't without its flaws. In terms of creator representation, white men are still responsible for the majority of the publisher's content. Two of this week's 15 single issues have female writers (8house and Plutona are co-written by Helen Maier and Emi Lenox, respectively), and four have women on the art teams (Chankhamma on Codename Baboushka, Lenox and colorist Jordie Bellaire on Plutona, inker Michelle Delecki on Axcend, and colorist Kristina Collantes on The Humans). The numbers are even worse for creators of color, and now that Image has diversified the characters, genres, and styles of its comics, it should focus on more diverse representation in its creator lineup.
For both readers and creators, Image Comics has become a highly desirable alternative to the Big Two monthly comics publishers, producing higher quality titles by allowing writers and artists the freedom to fully follow their creative impulses. Image has blossomed as a company by giving its talent unprecedented control of the product, and the publisher's increasing market share shows that readers are reacting very positively to this model. Image offers creative opportunities that aren't available at corporate publishers like DC and Marvel, and if readers are really desperate for something new and different, Image is the place to look.