Podmass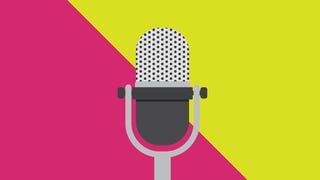 Podmass
In Podmass, The A.V. Club sifts through the ever-expanding world of podcasts and recommends the previous week's best episodes. Have your own favorite? Let us know in the comments or at podmass@avclub.com.
---
It wouldn't be a holiday, or America, without competition and arguments over who's celebrating what wrong, and this leftist take machine lives up to those salty ideals with a debate on whether Halloween is the best holiday. One of the hosts' more astute observations is that we're likely mere days away from encountering a horde of sexy Grittys. Before they get to that, however, the gang first tries to solve the mystery of who, or what, killed American democracy. Suspects considered include Ayn Rand, Ben Sasse, Thomas Jefferson, borders, Election Day, and liberal neutrality. A Shyamalan-ian twist enters the conversation when it's suggested American democracy can't be murdered because it never existed in the first place. The concluding segment has everyone throw out a pet unsolved mystery, and is perhaps the most satisfying point of the show. Props to the crew for finding some deep cuts, like the 1943 murder of "New York City's town anarchist" Carlo Tresca, which required the collaboration of 100 detectives. Or the 19th-century murder of John Henry Blake, a.k.a. "The Worst Landlord In All Of Ireland." More recently, one panelist notes that there are still some loose ends in the 2013 Boston bombing that could use clarification. [Zach Brooke]
---
This is a moody, evocative podcast that perfectly captures the lonesome weirdness of California's Mojave desert. In 1947, a hype man worked a meeting of L.A.'s transportation club, telling of how his client, a retired doctor from Ohio, fell into a desert cavern that held the preserved remains of a race of giants. Another story from the same period sees a separate party sucked through alluvial sands into a subterranean city of gold. Neither claim could be verified, but such colorful mirages mix easily with the bizarre world from which they emerge. Despotic Death Valley really does sit atop underground oases, and Shoshone folklore speaks of red-haired cannibals that match up with some modern accounts of the giants. Some of the cave tales were picked up by the Manson lunatics as they hid out nearby waiting for their race war, and were quickly repurposed to aid the group's own deranged priestcraft. All these threads are woven together in a straight-faced reading by writer Ken Layne, who certainly knows better, speaking in a husky voice backed by twangy guitars, the yips of coyotes, and squawking buzzards. The heat gets to people, man. [Zach Brooke]
---
The latest Halloween film from David Gordon Green and Danny McBride is a hit. While garnering some rave reviews, the film has also struck a sour note with longtime fans of the series in this week's Halloweenies episode—which clocks in at an hour and a half longer than the film itself. The hosts dissect the latest Michael Myers adventure in their ninth episode, having been building toward this moment since the premiere. Is this the dawn of a new slasher renaissance or simply another dull imitation of John Carpenter's (literally) immortal classic? The discussion is insightful, smart, and very funny, especially if you've been following the Myers saga—and its many timelines—since the beginning. Worth noting is that host Michael Roffman is absolutely the most upset with The Shape Awakens. [Note: Roffman, along with fellow Halloweenies host Dan Caffrey, are contributors to The A.V. Club.] This latest episode is, much like the film itself, divisive, but it's certainly worth a listen for fans of the franchise. [Mike Vanderbilt]
---
If the first few episodes of this season of Doctor Who haven't sold you on Jodie Whittaker, this podcast almost certainly will. The effervescent British star is a delight from the moment she walks into host Josh Horowitz's office and asks to take a selfie with the stuffed E.T. he has on his shelf. Whittaker has a palpable enthusiasm for everything she talks about, from her love of '80s genre films like E.T. and The NeverEnding Story to her experience acting alongside Mark Rylance at The Globe Theatre. There's enough discussion of Doctor Who to keep Whovians happy (apparently Bradley Walsh is the most energetic, prank-loving person on set), but the conversation stays broad enough that you don't need to have seen Doctor Who to enjoy it. Horowitz also asks about Whittaker's experience working alongside Peter O'Toole in her film debut, Venus, as well as what it was like to work with John Boyega on his film debut in the sci-fi cult classic Attack The Block. Whittaker is as thoughtful as she is charming while she discusses the arc of her career and the intentionality with which she's approached becoming the first female Doctor. [Caroline Siede]
---
Imagine you're at a house party. You squeeze your way through over-filled rooms trying not to spill your drink, and eventually find yourself in an upstairs bedroom where the air is a bit thinner and only a handful of people are hanging out. Someone quietly noodles on a guitar in the corner, but everyone's attention is turned toward the rug on the floor where a young woman is doing a tarot reading for her friend. You sit, listen, and let the whole scene wash over you. That's what it's like listening to Veronica Osorio's new podcast Sassy Tarot. Whether you're a tarot enthusiast or completely new to the world of the arcane, there is something here for you. Each week, Osorio gives a reading to one of her fellow comedians while also teaching listeners about the various interpretative meanings behind each card. As with any reading, listeners should feel free to fit these meanings into the context of their own lives. This becomes especially important during the interactive reading at the end of the episode. But what Sassy Tarot is really about is opening up and giving yourself over to the vibe. Just don't forget to take deep breaths. [Dan Neilan]
---
For most people, it's just October. But listeners of The Flop House know this special time of year by another name: Shocktober. It's a magical month—falling somewhere between Smallvember and Cagemas—in which the podcast dedicated to watching bad movies focuses exclusively on watching bad horror movies, of which there are many. This year, Elliott, Dan, and Stuart kicked things off with Blumhouse's Truth Or Dare, a tepid rehashing of 2015's much more successful It Follows. The film follows a group of college students devoid of personalities who are forced to play a deadly version of the popular sleepover party game by a demon named Callux, who happens to be a real stickler for the rules. Oh, and for some reason everyone keeps flashing big, CGI grins like on that one Aphex Twin album cover. This probably sounds like a pretty lame premise for a horror movie, and that's because it is. Luckily, we don't have to watch it. We just get to hear three veteran podcasters speculate how often demons get blamed for crimes and riff on the potential sequel to this flop, Truth Or Double Dare starring Marc Summers. [Dan Neilan]
---
Any halfway decent comic book villain needs an origin story—a parable in which they stumble upon great power and wind up putting it to terrible use. And if there's one thing Donald Trump is, it's a halfway decent comic book villain, so here's his origin story: Ten years ago, the star of a failing reality show was forced to start a promotional social media account despite being technologically illiterate. That's it. He didn't get bombarded with cosmic rays or fall into a vat of toxic chemicals; he just signed up for Twitter in the hopes that it would boost ratings for NBC's Celebrity Apprentice. It didn't; the reality show continued to lose viewers. But what it did do was afford a narcissistic celebrity an element of novelty and an audience of people to buy into his bullshit. We're living through the result. Here, Trumpcast's new full-time host, Virginia Heffernan, listens in horror as she talks to Peter Singer (co-author of the book LikeWar: The Weaponization Of Social Media), who explains how a website designed to mass-deliver "a short burst of inconsequential information" wound up placing unthinkable power in the hands of an unthinking egomaniac. Listen at the peril of your sanity. [Dennis DiClaudio]
---
Busy Philipps notes early in her conversation with Marc Maron that it's "a weird fucking time" for her. The episode was recorded in the midst of the Brett Kavanaugh Senate hearings and shortly after Philipps publicly shared that she had been raped at age 14, which she also opens up about in her new memoir, This Will Only Hurt A Little. Yet as two people who channel their anxieties through humor, Maron and Philipps manage to have a conversation that feels weighty but never heavy. In fact, it turns out Maron and Philipps are unexpected kindred spirits, which allows their conversation to easily flow from silly topics to serious ones and back again. Maron proves to be an empathetic listener as Philipps candidly discusses the sexism she's experienced over her long career. Parenting is another big topic of conversation, both about how their own parents' flaws messed them up, as well as how Philipps is now raising her two daughters. "I feel like you and I are the same person," Philipps tells Maron at one point. It's a good thing their similarities seem to bring out the best in both of them. [Caroline Siede]
---
Filmography
Although we don't review podcasts where our staff appear as guests, we want to let our Podmass readers know about them. The October 12 episode of Filmography, "Carpenter Vs. The Man," features A.V. Club News Editor and horror expert Katie Rife and frequent Podmass contributor Mike Vanderbilt, who join host Dominick Suzanne-Mayer to talk about John Carpenter. The final episode of Filmography's season on John Carpenter also features Vanderbilt.